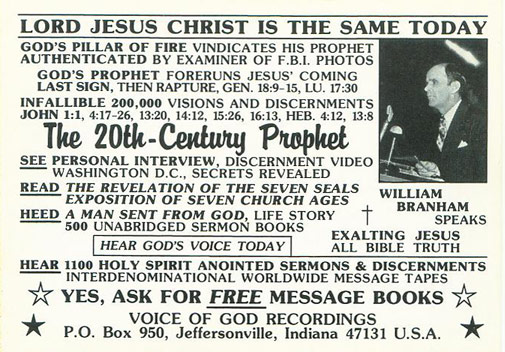 FRONT SIDE - 2" X 3"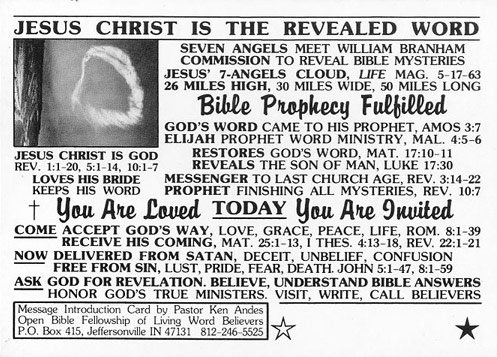 BACK PORTION - 2" X 3"
EFFECTIVE WITNESSING TOOL
It reaches into the "cracks and corners", in search of God's sons and daughters that must hear the Message of Jesus Christ. Although small, it is filled with pertinent information, as one's first contact with all Truth.
OBJECTIVE – That people, wherever they see the card, will write for sermon books and tapes by William Branham.
CONVERSATION STARTER – Each line on both sides of the Message Introduction Card can be used as a lead-in statement, depending on the occasion and situation when witnessing and introducing Jesus Christ to someone. There are about 40 of these start-up conversations on the card.
FRONT SIDE – Supernatural Light photo; perfect discernment; 20th Century prophet; address for books and tapes.
BACK SIDE – Supernatural Cloud; prophesies fulfilled, invitation for help; space for your name and phone number.
PERSONALIZED – Write your name and phone number in the provided space, to direct the inquiries back to you. If left blank, inquirers will be informed of the church groups in their area.
ATTRACTIVE and INFORMATIVE and INEXPENSIVE - Small as a business card; fits any wallet, pocket, hand palm. Conveniently carry 25-40 in any pocket, in any cassette box with the center prongs removed. Give a Message Introduction card to EVERYONE and leave them EVERYWHERE.
To get your Free Copies, write to: Open Bible Fellowship of Living Word Believers, P.O. Box 415, Jeffersonville, Indiana 47131 USA Ph: (812) 246-5525
---
SEEKING THE PREDESTINATED SEED
FIVE BILLION and FIVE HUNDRED MILLION of earth's six billion people have never heard that God has sent a true Word prophet fulfilling Bible prophesy in this end time and bringing a message of grace to prepare them for the soon coming of Jesus Christ. But the Bride is seeking God's lost sons and daughters, getting one here and there, gleaning them from the cracks and corners. Remember, two "tape boys" got into Jericho for the predestinated seed.
SPREAD THE BREAD IN EVERY CORNER
"Somewhere out of this mess out here, is still honest people that's been ordained to Life. It would be impossible for one man or two man; but, God, all of us together, let us spread in every corner we can, the good news that Jesus is coming, and, see, just spread a little Bread along, a little Word. Wherever the Eagles are, they will follow that Food." 65-0711.
WHO YOU MUST TELL?
EVERYONE – Doctors, Lawyers, Dentists, Politicians, Ministers, Clerks, Employers, Employees, Athletes, Gangs, Students, Teachers, Salesmen, Artists, Neurotics, Handicapped, Divorced, Friends, Paperboy, Church Denominationals, the Rich, the Poor, Manufacturers, Alcoholics, Drunkards, Dope Addicts, Prostitutes, Rock-and-Rollers, the Immoral, the Discouraged, the Depressed, Lost Sinners, Everybody.
WHERE YOU MUST GO?
EVERYWHERE – Service Centers, Stores, Garages, Buses, Trains, Planes, Stadiums, Fairs, Conventions, Malls, Hospitals, Homes, Churches, Restaurants, Phone Booths, Bulletin Boards, Payment Envelopes, Table Counters, Prisons, Streets, Parks, Neighborhoods, All Denominations, All Religions, Every Crack and Corner of the Earth.
WHEN YOU MUST SPEAK?
ALWAYS – Every day, Every Night, Emergencies, Accidents, Vacations, Casual Encounters, Answering Questions, Working, Traveling, Relaxing, Every Opportunity.
HOW TO APPROACH?
PRAYERFULLY – Be Sincere, Friendly, and Smile. Always make a positive comment, even if it's only "God bless you." Pause, let them respond. They may comment or ask a question.
HOW TO BEGIN?
CONVERSATIONS – Bring up the Subject. Talk and Listen. Ask and Answer. Speak of God's Love, Faith, Light, Eternal Life. Give your testimony. Jesus always does good, positive things.
HOW TO CONTINUE?
POLITELY - Remember, you are not selling them something or pressing them for a decision. Never argue or fuss. You are offering them something to ask Jesus Christ about, and search the Scriptures for. Be acquainted with the Bible references, although you need not explain them.
WITNESSING AND REAPING
THE LORD JESUS CHRIST – "Ye shall be witnesses unto Me… unto the uttermost part of the earth." Acts 1:8. "One soweth, and another reapeth. I sent you to reap that whereon ye bestowed no labor; other men labored, and ye are entered into their labors." John 4:37-38.
INTRODUCING THE MESSAGE
"That angel coming, and said, 'As John was sent to wind up the Old Testament and to bring forth the introduction of Christ, a Message will wind up the loose ends and will introduce the Messiah just before His Coming, 'the Message of the Last Days." 62-1230
THE SPIRIT AND THE BRIDE SAY, "COME"
"The church is no longer the 'mouthpiece' of God. It is its own mouthpiece. So God is turning on her. He will confound her through the prophet and the Bride, for the voice of God will be in her." CA-340 "Yes, listen to the authenticated prophet of God who appears in this last age. What he says from God, the Bride will say. The Spirit and the prophet and the Bride will be saying the same thing. And what they will say will have already been said in the Word. They are saying it now, 'Come out from among her now and be ye separate.' The cry has gone out. The cry is going out." CA-365 Revelation 22:17.
LAZY-HEARTED, NO GOOD CHRISTIANS
"God have mercy on these lazy-hearted Christians, become no good; know so much about it, and tell so little to other people about it." 55-1731 "They have no burden for lost souls." 60-1211E "When it comes to a poor lost soul, they ain't got nothing to do with that." 64-1227 "We don't have the zeal no more, to hunt souls, to warn people, to get our neighbors, to get our friends, the milkman, the paperboy. Whatever it is, get someone to the Lord Jesus!" 60-0229 "I believe we should still try to pray to God to give us passions for lost souls until Jesus comes." 64-030E
YOU ARE RESPONSIBLE
"Only while we're living in this earthly vessel, do we have the privilege to serve Thee, and win others to Thee." 57-0120M "Any man that comes into the Presence of God is responsible the minute on, to tell somebody else." 62-0909E "After these things, you've seen It and come into His Presence, you're responsible for the Message to get to somebody else. You just cannot sit still with it. You must take it to someone else." 62-0909E
JESUS IS WAITING FOR US TO FINISH THE JOB
"We want everything that we can do, that's in our power, to get the work done for the Lord Jesus before He comes. Somehow, I kind of feel that He is waiting for us to – to finish the job. So, help us, Lord, tonight, as an individual, each one of us, that we might be so concerned about others, that we go out into the streets, or into the neighborhood, and bring in the lost, that they might be saved." 63-1127
SOUL WINNERS MUST GO AND TELL
"Human beings that loved Jesus Christ, would serve Him if they only know what to serve him by. And they're in bondage under denominationalism that tells them, "Don't you do this, and don't you do that." 63-0623 " I thought, 'God, how did I know who You've called, and who You haven't called?' It's my business to speak to everyone." 57-0908M "May they go from here, tonight, as to be soul winners, to tell other, to bring them to a saving knowledge of Christ." 63-0623E
WORK TILL OUR HANDS ARE BLEEDING
"A real born-again man or woman that's got discernment of the Holy Ghost will find his place in church, worshipping and crying out, and doing all that's in his life, to try to bring sinners." 59-0812 "Work while it's light, for the night cometh when no man can work. Work while we got an open door. Work while we can have meetings like this. Get our loved ones in. Bring them into the Gospel. Get our friends, our neighbors. God died for those people, and we ought to be concerned enough about them, to work till our hands are bleeding. We'll come empty if we don't." 59-0812
GOD'S LOVE EXPRESSED IN HUMAN FLESH
"He isn't a stuffed shirt. He was God's grace to the people. He was God's love expressed in human flesh. No matter how little or insignificant, he cared; immoral, drunks, alcoholics, whatever it was." 60-0301
EVERY CRACK, EVERY CORNER, EVERY PERSON
"He is seeking them from every walk and every corner of life, everywhere, moving in the spirit in this last days, bringing them together." 58-1221M "May the presence of God be felt in every crack and corner of the nation tonight." 65-0919 "Help us, Lord, to take the Message to every crack and corner, to every child that You've ordained to Life." 65-0919