Heinrich Hofmann's Head of Christ at 33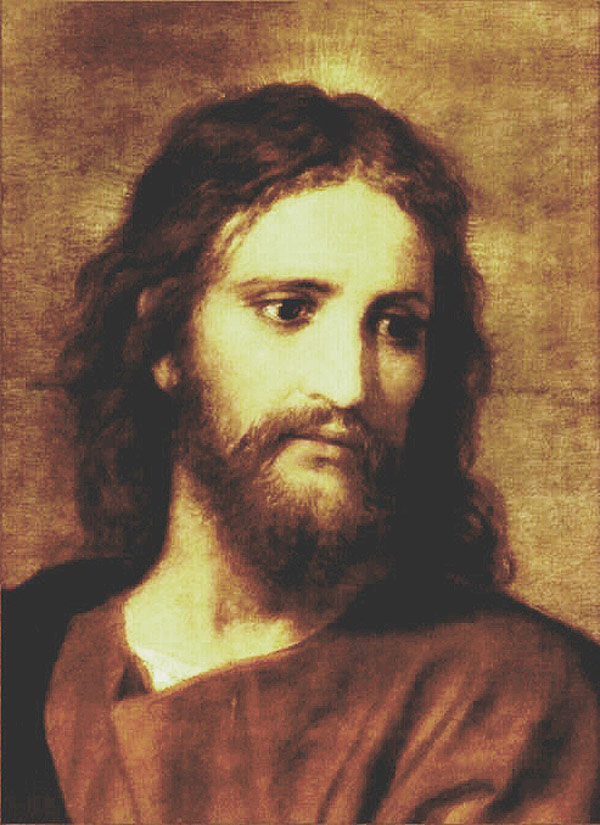 WHAT BROTHER BRANHAM SPOKE ABOUT THE HOFMANN'S PAINTING :
"I like Hofmann's picture, The Head At Thirty-three, you know. And I've got a big picture of it, 'cause, when I seen Him in the vision that time, that's just the way He looked. And there it was, I got it fixed so that He would be looking right at me when I was praying, in this picture."
TESTIMONY_ SHREVEPORT.LA V-17 N-5 THURSDAY_ 63-1128M
"There's not an artist in the world could paint His picture, the characters of His face. The best I've ever seen is that Hofmann's Head of Christ at Thirty-Three, I've got it on all literature and everything I use. That's because that looks just like it, and so then... or pretty near, as close as it could be."

HOW.THE.ANGEL.CAME.TO.ME.AND.HIS.COMMISSION_ CHICAGO.IL FOOTPRINT.BOOK
"Now, I'm not allergic to illusions, as I know of. But visions are real. And there stood the Lord Jesus, the first time I had ever saw Him in a vision of that type. He was just about, oh, probably ten feet above my head, standing in mid-air, with one foot just making a step. He had on a white garment, a fringe around the side of it. He had hair down to His shoulders. He looked to be about, a Man about what the Bible said He was, about thirty. But, a small, thin-built Fellow, very small, looked like He wouldn't weigh over a hundred and thirty pounds.
17 And I looked, and I thought there was something, that I might be wrong. So I--I rubbed my eyes and--and looked up again. And He was standing kind of sideways, kind of a profile of His face. And the looks of His face, which I've always seen in the visions, has been like Hofmann's head of Christ at thirty. That's the reason I have that in my house, on my literature, wherever I can put that, because that's the way it looked, more like that."

THE.SEED.IS.NOT.HEIR.WITH.THE.SHUCK_ JEFF.IN V-6 N-4 THURSDAY_ 65-0218
" Now the morning that I left, at our home, we always had to get up, and when we would go to pray; when we'd leave, we'd take the children and all of us, stand around towards the picture of Jesus, in our front room, Hofmann's Head of Christ at Thirty-three. And we would all gather round there, the children, and each one of them would pray for me. The wife would pray for me, and then I pray for her. Then I'd go overseas, wherever it is. And we commit ourselves to the Lord, for His service."

HIS.UNFAILING.WORDS.OF.PROMISE_ PHOENIX.AZ V-15 N-3 MONDAY_ 64-0120